HammRadio Today: 3/9/2009 --
Virtual Ryan Howard Hitting To the Opposite Field
Last Modified

3/9/2009 7:15 PM

Story Summary

Topps uses a webcam to creates a virtual game on your screen from your baseball cards. Ryan Howard powers a couple of hits to the opposite field and a homer to straight away center.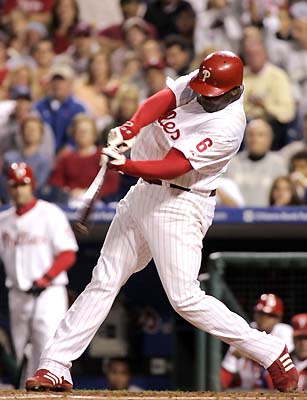 Topps has a new feature that involves using your webcam to scan your baseball cards and it creates a virtual game on your screen. The Phillies own Ryan Howard is featured in this game. And like his 2009 spring where he's hit 4 home runs already, here's on fire here hitting the ball to the opposite field!
Ryan Howard' virtual baseball card having a good spring taking the ball the other way for a Double, Single and Home Run.
HammLinks: Around The Web Today
Nothing like serving up a fastball for a homerun to teach a lesson to the young catcher. That's why you keep a veteran like Jamie Moyer around. Sometimes the intangibles are worth more than the results on the field. Eagles are you listening?
Boy, U2s promotion of their new album has really gotten out of hand.
They say they are employees not independent contractors. Unfortunately, the complete lack of knowledge of the industry of pro wrestling by the public and this moronic piece of azz on Fox News could hurt the former Johnny Polo.
HammRadio.com's suggested On-Line listening Stations

Pows of the Day:


*** POW OF THE DAY ***

My Daily Spot
I keep forgetting to put this new feature on the site as a blogroll somewhere. But I wanted to give you a peek into some of the links I check out daily/regulary. I call it "My Daily Spot".
My Daily Spot

General News

PORTALS

SEARCH
---
TAGS: