What our readers are saying about the new Jell-O Pudding Pops
Last Modified

8/6/2004 8:35 PM

Story Summary

We are in the heart of summer and people want their pudding pops. Well, some have tried the new pudding pops, some have not figured out that they are BACK!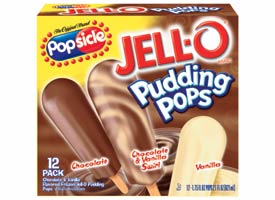 We are still getting tons of e-mails from people who are looking for Jell-O Pudding Pops. Well folks as you know we FOUND THEM! Of course, I have been helped my many a reader, and I love you all for it. Despite the joy that they brought all of you, the new pops aren't quite the same, and there are those that STILL WANT THE ORIGINAL. So please keep sending me your e-mails. You can e-mail me at BringBackPuddingPops @ hammradio.com. (Remove the spaces between surrounding the @ symbol.) And we will continue to pester Kraft to BRING BACK OUR JELL-O PUDDING POPS!
So why did they bring them back? Was it my incessant rantings? No. From Good Humor: "Good Humor-Breyers decided to bring back the Jell-O Pudding Pop," Spokesperson Irene Savine said. "We do consider it a new product, because it is a different company producing the product." Thanks to the JournalTImes.com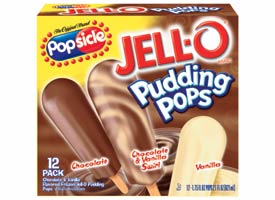 What are YOU SAYING??
Now Let's take a sampling of the e-mails we have been getting:
Saturday, July 31, 2004 9:30 PM -- I know its been a while since you wrote your article, but I just tried to make them myself and they just weren't the same. So I surfed the net to see what was up and found your article. Ive tried the new popsicle ones that you mentioned and they just taste like fudgesicles. I need these jello pudding pops please. thanks for your article and concern for all of us out there suffering from this injustice to our favorite frozen snack. Sincerely Kimberly Cloud
Wednesday, July 28, 2004 8:11 PM -- Can you tell me where I can find them? I found them at Albertson's supermarkets here in Nebraska. But now that Albertson's stores are being bouhgt out I can't find them anywhere.
Sandy
You can find them by clicking here: Find Jell-O Pudding Pops... Then Click on WHERE TO BUY!
Tuesday, June 15, 2004 5:21 PM -- My children LOVED PUDDING POPS! They are now adults and are STILL LOOKING FOR THEM! I was with my 26-year old daughter and she was again scanning the freezer department -- LO AND BEHOLD -- PUDDING POPS! She was so excited! THANK YOU! She immediately contacted my 31-year old son and they are both thrilled! We appreciate your efforts to Bring Back Pudding Pops! -- Nancy
UM... You did READ the site?
But there are some, who are still calling for their return, but I'm not sure if they have read that they have come back!
Tuesday, July 27, 2004 11:20 PM -- I didn't even realize they were discontinued till I just craved one and searched and found this link. They need to bring them back. -- Joyce
Tuesday, July 20, 2004 11:23 PM -- One of my favorite childhood memories is that of eating Jello Pudding Pops. I was sad when they took them off the market. I would like to join a petition to bring them back. I don't know what they were thinking when the discontinued them. Have a nice day

Thursday, June 3, 2004 1:33 PM --We are sorry to report that our freezer has been abandoned. We just cannot bear to open the door and see the empty spot where our Pudding Pops used to be. It's been several years since we've enjoyed the arctic blast that hits us while seeking our favorite flavor. Many imposters have tried in vain to move into the vacant freezer position, however eviction always results. These days, we try to get by on refridgerator food alone, but none can thrill like the icy covered Pudding Pops. The loss of our favorite treat has made it impossible to even open the freezer door for fear of being pulled back into mourning. The remaining residents of the abandoned freezer are now encased in an icy tomb, never to be dug out till the Pudding Pops return to their rightful position. - Pudding Pops for Pop

P.S. The only time my Dad has had a look of pure glee on his face, was when reaching for his Pudding Pop. (he's a state policeman)
Yeah Darla... HOW DOES IT TASTE?
Here are what people have said about the new Pudding Pops
Tuesday, July 13, 2004 2:52 PM -- My sister and I brought the "new" pudding pops last night. And although they were quite good, it is obvious that they are not the same as the original. I think it would be a wise decision to bring back the original pudding pops. People may not have noticed the decrease in supply but I am pretty sure the demand is still heavy! --LaKeisha (Keisha) Lynch
Sunday, July 4, 2004 4:29 PM -- The REAL pudding pops HAVE to come back!!!! The tall, thin pudding pops with that unforgetable icy coating that they had.........How could they ever be discontinued??? -- Nicole Schwenzer
Wednesday, May 26, 2004 9:58 PM -- I tried the new Jello-O Pudding Pops today and they were not as good as I remember. Don't get my wrong, they are good, but they don't have the same great taste that I remember from my childhood.
HammLinks:Around The Web
Check out these links on people talking about the return of Pudding Pops!
---
TAGS: