Bring Back Jell-o Pudding Pops
Last Modified

3/31/2004 6:39 PM

Story Summary

We ARE back folks! Even though winter is upon us we still want our Pudding Pops back. Check out our updated site for new information about the re-launch of our Bring Back Jell-O Pudding Pops campaign!!!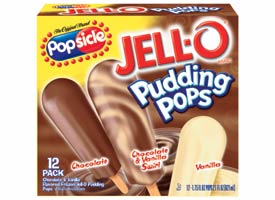 Jell-o Pudding Pops Are BACK!
It has been a 6 year odyssey. In 1998 I posed the question to Kraft, WHERE are Jell-o Pudding Pops. The response as you might guess was not promising. So I started a survey (which made sense since I worked at a Market Research company at the time) and the response was overwhelming. Of course my sample was heavily biased.

As HammRadio moved to it's world here on with it's own domain, the response has been deafening. 5 to 10 e-mails a month asking for the return of Pudding Pops. Mostly from young women. Unfortunately, NONE sent pictures. But, their cries have been heard, thanks to me. Let the rewards flow to me! You can e-mail me at BringBackPuddingPops @ hammradio.com. (Remove the spaces between surrounding the @ symbol.)

Good Humor who make Popsicles and Fudgsicles have produced their version of the Jell-O Pudding Pop. It is offiically licensed BY Kraft. Unfortunately, they are not exactly like the Pudding Pops you remember. But they are very tasty, and a light treat at only 90 calories (3g of fat -- But there are 16g of Carbs for you Atkins people). I bought a box at SuperFresh today for $2.99.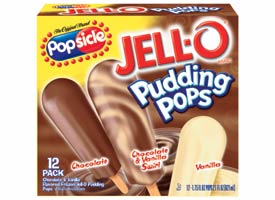 Have you ever wanted to now what happened to Jell-O Pudding Pops?? So did I...
I e-mailed the folks at Kraft at Jell-O.com and here is the response:
Thanks for visiting our Web Site regarding the availability of JELL O Pudding Pops. Whenever a decision is made to discontinue any product, it is reluctantly done after extensive research. We wish we had more enthusiastic consumer like you, but there were not enough consumers buying our product to support its continued production. Of course it consumers become interested, we will consider putting it back on the market. We will forward your comments to our marketing staff for their benefit.
We appreciate your interest, and please visit our site again soon!
Please e-mail me at BringBackPuddingPops@hammradio.com if you would like to bring back Jell-O pudding or any other product.
SURVEY!!
We need your help! Take this quick survey so we can let the people at Kraft know about your attitudes towards Jell-O Pudding Pops. We will post the results from our last survey here soon!.

---
TAGS: