The Guide to Booing Barry Bonds
Last Modified

5/4/2006 5:15 PM

Story Summary

How should Phillies fans greet Barry Bonds? The one way they know how! By Booing as loud as you can! Here are some tips to make your enjoyment of the game more BOO-ABLE.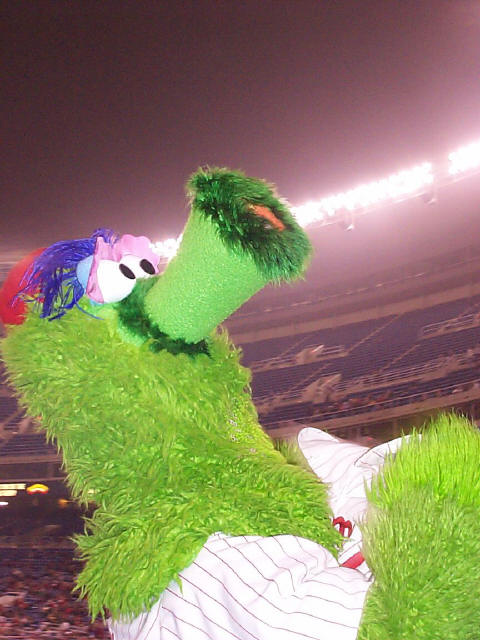 Barry Bonds is expected to play all three games here in Philadelphia. (He did not play today.) And it's time for the fans in Philly to unite and show their displeasure for the man who has sullied the very fabric of the game we love. (Okay, the game was in bad shape BEFORE Bonds. But if we're going to blame someone you might as well blame the most villainous.)
Why do we hate Bonds? Well it's more than just coming to the plate in more armor than we give to our soldiers in Iraq to face the inside pitches. It's more than the disdain he shows for pitchers when he is walked as he casually disrobes his armor as if he was a Roman Governor awaiting a ceremonial bath. Is it the arrogance he shows at the plate or in interviews? Is it his absolute refusal to admit that his body has swollen as if he was injected with the same material as Bane in one of those horrible Batman movies.
Is it our very nature to want someone likable to chase the records we hold dear? When Mark McGwire and Sammy Sosa chased Roger Maris, we were along for the ride because both fellows were both likable "heroes". Unfortunatley, we have found out later than they weren't so heroic. In a way, the reaction to Barry Bonds is unfortunate. America loves a winner. And we also love to rehabilitate ourselves as fans.
Henry Aaron faced incredible pressures and threats when he chased the Babe. The threats were so REAL, that when he crossed home plate, his mother left the stands to embrace her son at home plate, and held on for dear life. Because she wasn't going to let her son be taken out by some racist redneck. You can't go back in time to give Aaron a proper celebration. The same way we can't go back intime and give a parade to those who returned from Vietnam. During the first Gulf War, American patriotism was so off the charts, it resonated as a parades for every soldier who fought when called by the country.
So it would stand to reason that Bonds would get the "give back" treatement. He should get the recognition that Aaron should have had. But he's not. He's getting syringes. He's getting booed. He's getting chants. So, this weekend as he approaches Ruth only 2 Homers shy of a tie, three to pass, in the Home Run friendly park, it is likely he could come VERY close to passing Ruth. In the most unfriendly confines of Citizens Bank Park, where the echos of the 700 Level can still be heard. [I'm sure San Francisco would rather he pass Ruth when he returns to San Fran, and I'm sure the ball that hit his very swollen head, might have been, for the conspiracy theorists, a good reason to take a couple days off.]
| | |
| --- | --- |
| Alexander Global San Francisco Giants Barry Bonds Bobblehead Doll | Alexander Global San Francisco Giants Barry Bonds Action Pose Bobble Head Doll |
So what is a Philly fan supposed to do???? Well here are the Do's and Don'ts of Barry's weekend here in Philly!
DO Boo Bonds when he hobbles onto the field during WarmUps.
DO Boo Bonds every time he approaches a ball.
DO Cheer if he misplays a ball.
Do CHEER if he swings and misses at a pitch.
DO Boo when he stands in the on deck circle.
DO Boo LOUDER when he approaches the batter's box.
DO BOO Louder than you ever have when he waits for his pitch.
DO CHEER when he is intentionally walked.
DO BOO when he takes off his gear to stroll to first.
If he hits a homer... and you catch the ball... THROW IT BACK ON TO THE FIELD AS FAR AS YOU CAN.
If he hits a homer... BOO louder and louder as he reaches each base
What about Chants? You need to have Chants don't you??? Absolutely, here are some suggestions:
A$$-Hole, A$$-Hole

This is a perennial favorite. It sounds great during Sunday night television. When Rolen came to the vet for a Sunday night game a few years back, 60,000 people chanted A$$-Hole. I was proud to be a Philadelphian.

Steroids, Steroids

You will here this one, but it is purely Un-Original.

BALCO, BALCO

This is a good one to use instead of Steroids. It reminds people of Bonds grand jury testimony. Unfortunately, it might sound like you are calling for the Phanavision crew to play Rock Me Amadeus.

CREAM OR CLEAR, CREAM OR CLEAR

My personal favorite, say it with me! CREAM OR CLEAR!!! CREAM OR CLEAR!!! CREAM OR CLEAR!!! Not only is it nice and subtle. BUT it also, is asking a QUESTION? C'Mon Barry? was it the CREAM OR CLEAR???
Chants we shouldn't hear?
HALL OF FAME, HALL OF FAME

That chant is reserved for potential Hall of Famers and Pete Rose.

E-A-G-L-E-S

C'mon folks, the Phils have won 4 in a row!!

Let's Go Flyers, Let's Go

Now, you're just mocking me.

MOOKIE, MOOKIE

One of my favorite chants of all time. That chant along with the Darryl, Darryl chants were claimed to be created by other cities. But come on. The Mid-80s Mets-Phillies rivalry was incredible. Those chants were started here!!!
Finally, Should there be a "Fan Club" in the stands? I say YES!!!! I'm thinking a club called "BAD NEWS BONDS". You dress up in Bad News Bears uniforms, with Barry's Bail Bonds on the back of your uniforms. Who wants to be Tanner? LET THEM PLAY!!! Okay, maybe not.
---
TAGS: