At the Game: 9 thoughts from the Ball Park --
Chase Utley, YOU ARE THE MAN!
Last Modified

8/28/2007 3:42 PM

Story Summary

First, what an experience tonight was. Phils pound the Mets 9-2, and Chase Utley returns with a Bang. You know he leads the league in hitting.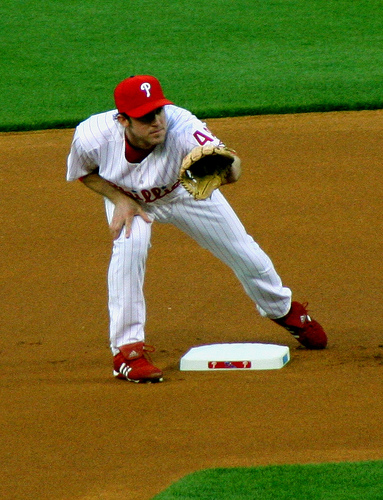 9 things about the game: First, what an experience tonight last night was. I wasn't going to the game tonight. I had class. Go all the way to school and find out the class was cancelled. (First day??) I haven't been back to school in 11 years, AND THEY WON'T LET ME TAKE THE CLASS!!! Fortunately, I didn't give away my ticket and I still had plenty of time to head to the CBP.
I'm so glad I did:
Chase Utley what can I say. I was walking through the parking lot when I heard the loudest roar. Batting 2nd, playing second base... CHASE..... UTLEY. I get in to the ball park, and sliding up the escalator for Chase's nice play on Reyes ground out.
Cowboy Joe West strikes with the WORST CALL EVER. Jimmy was in the outfield when Delgado caught the ball. J-Roll only complains when he's sure he's right. BULLBLEEP. Cholly got tossed quickly. I wonder what he said???
More on Chase... Chase steps up to a very loud ovation (louder than Shan-o's return last week) Ump calls time... just so Chase can soak it in. VERY classy.
David Wright argues balls and strike. Gets in umps face with elaborate hand gestures. It's amazing that he didn't get tossed. He's a class act. He must have been talking about
Pat Burrell's bomb was HUGE. That ball was CRUSHED. If Pat hits like this the rest of the season. I'm going on record. We're making the playoffs.
There were a couple of weird things that happened tonight with the umps and Willie Randolph, that being at the game, I didn't understand? Where they stalling? Or what??? Any toughts? One time it happened around when Lawrence was taken out... or right after I forget. Even Jimy williams came out to find out. Later in the game, Randolph was out there again. Thoughts?
Mr. Utley, welcome back. There hasn't been a finer game, since Darren Daulton welcomed back his buddy Lenny Dykstra, who was returning from injuries sustained while in a serious car accident with Daulton. Daulton hit a Grand Slam to beat the Dodgers in the 5th inning, where the entire Veterans Stadium was rocking with a seemingly never ending wave. That grand slam sent Lasorda into a tizzy, if memory serves, and he exploded in the dugout by tossing a water jug around. Utley's Bell Ringer Homer was crushed. Burrell high fived Utley, screaming "He's Back". Great Moment in Phillies History.
In the 8th inning Nunez hit a foul ball that nailed a guy in the face on the First base side. I joked, "How embarrassing, to be hit by Abraham Nunez. He doesn't hit anybody."
The Real Deal J.D. Durbin was "really dealing". I couldn't leave my seat because of his potential no-hitter. But then the runs started pouring in, so I never ate. It was well "Werth" it. Another great performance by Werth, 4 for 4, nine hits in a row. 10 consecutive plate appearances on base. Great job.
What's the best way to shut up a Mets fan? Beat them 9-2. Another 3 games, Phillies, put a HURTING on them!
---
TAGS: